West Keegans Bayou ID Neighborhood Developments
Keegans Bayou Improvements By Harris County Flood Control District (HCFCD)
Reference the letter below from HCFCD:
From: Harris County Flood Control District
To: Amarjit Verma
Sent: Thursday, September 29, 2022 at 02:07:35 PM CDT
Subject: Construction Advisory: Keegans Bayou Maintenance Project
Construction Advisory: Keegans Bayou Maintenance Project
Project ID: D118-00-00-X009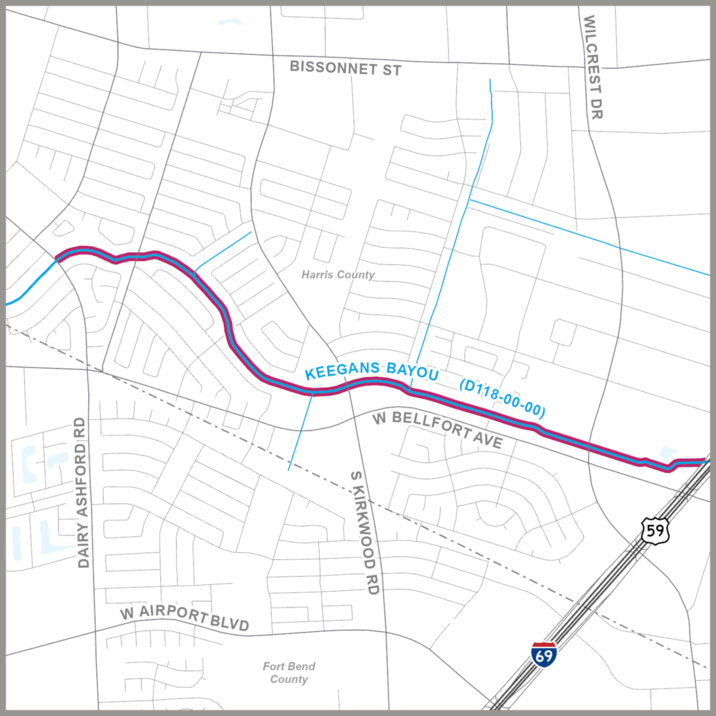 In an effort to keep you informed about the Harris County Flood Control District's continuing improvements in the Brays Bayou watershed, we want to notify you of an upcoming project in your area.
In fall 2022, the Flood Control District will begin construction of a maintenance project along an approximate 2-mile stretch of Keegans Bayou from Kirkwood Drive to US 59. The project will address the channel conveyance capacity issues and restore the channel back to its original design capacity. The project is expected to remove approximately 50,000 cubic yards of sediment from the channel.
The contractor will use heavy construction equipment such as dump trucks, excavators and bulldozers. Motorists are urged to be alert to truck traffic when passing near construction access points and along truck routes. For safety reasons, hike and bike trail closures are also expected along Keegans Bayou from Kirkwood Drive to US 59 for the duration of the project.
The Flood Control District appreciates your patience through the duration of this project. More information about the Flood Control District's maintenance projects can be found at hcfcd.org/maintenance. Should you have any questions or comments, please visit hcfcd.org/contact-us.
Keegans Bayou Maintenance Project
Project ID#: D118-00-00-X009
Contractor: LECON, Inc.
Contract Amount: Approximately $7.2 million
Construction Start: Fall 2022
Construction Contract Duration: 515 calendar days
Keegans Bayou Improvements By Fort Bend County
Community servant and activist Amarjit Verma pursued diligently with County Commissioner Grady Prestage's office to understand our neighborhoods and West Keegan Bayou Improvement District need to improve our areas infrastructure. As a result of his work, the County included Sugarland-Howell Road improvements in the Fort Bend County 2013 Mobility Projects. The project included adding 3,400 linear feet of road running between Bissonnet St and Old Richmond Road, trail underpass at the bayou bridge and included 6 feet wide trail worthy sidewalks on both sides of this road, completed in February 2019, and making it accessible to West Keegans Bayou Improvement District Hike and Bike trail system by building trail connections at Jehovah's Witnesses Church on south side and Wastewater treatment plant on north side, this project was completed in February 2022.