Welcome to West Keegans Bayou Improvement District
Through West Keegans Bayou ID's website you can easily find links to the following services.
Board Members
The District is governed by a Board of Directors consisting of five (5) Board members elected by the registered voters of the District, who manage and supervise all affairs of the District. Board members must either own property within the District or be a registered voter within the District. Each Board member is elected to serve a staggered four (4) year term. The District's current Board members are as follows:
Amarjit Verma, President, Term Expires: May 2026
Wayne Thompson, Vice-President, Term Expires: May 2024
Richard Alvarado, Secretary, Term Expires: May 2026
Viqar Anwar, Asst. Secretary, Term Expires: May 2026
Sheila White, Director, Term Expires: May 2024
Latest News
West Keegans Bayou Neighbors Developments
Community servant and activist Amarjit Verma pursued diligently with County Commissioner Grady Prestage's office to understand our neighborhoods and West Keegan Bayou Improvement District need to improve our areas infrastructure. As a result of his work, the County included Sugarland-Howell Road improvements in the Fort Bend County 2013 Mobility Projects. The project included adding 3,400 linear feet of road running between Bissonnet St and Old Richmond Road and included 6 feet wide trail worthy sidewalks on both sides of this road, completed in February 2019, and making it accessible to West Keegans Bayou Improvement District Hike and Bike trail system by building trail connections at Jehovah's Witnesses Church south side and Wastewater treatment plant north side, completed in February 2022.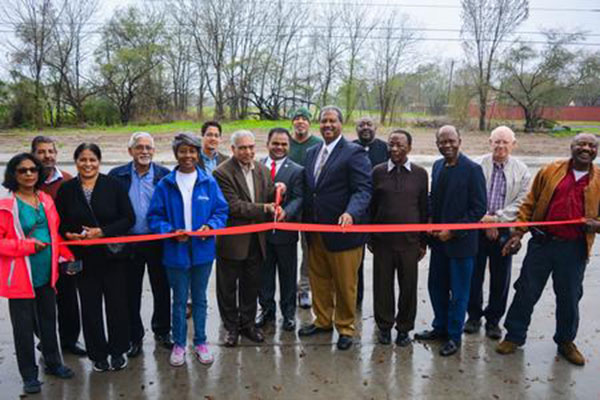 Picture taken on February 27, 2019 at Sugarland-Howell Road Opening ceremony. Director
Verma and Fort Bend County Judge KP George holding the ceremonial scissors along
with Commissioner Grady Prestage, on second ceremony as an honor to community
servant Amarjit Verma, along with people from the community.